Best Bars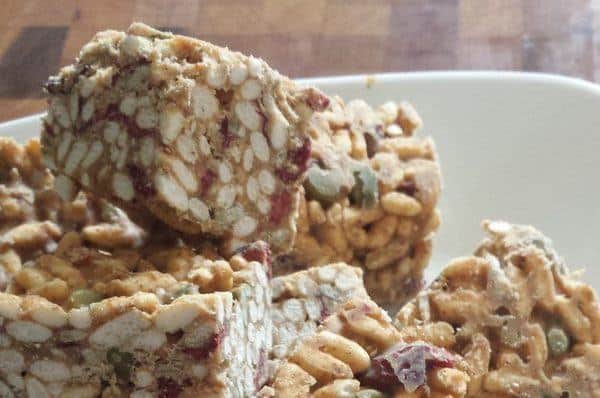 Makes 12-24 bars, depending on size.
gluten-free, paleo, dairy-free, egg-free, yeast-free
Ingredients:
4 cups puffed rice cereal (no other ingredients) or cooked brown rice
1 1/2 cups dried cranberries (I buy them here)
1/2 cup sunflower seeds (I buy them here )
1/2 cup roasted pumpkin seeds (I buy themhere)
1/4 cup psyllum husk powder (optional)
1/2 cup tahini (I buy mine here )
1/2 cup coconut oil
1 cup almond or peanut butter
1/2 cup unpasteurized raw honey  (I buy mine here )
1 teasp. vanilla extract.
Pinch of sea salt or himalayan salt
 Directions:
In large bowl, combine cereal, cranberries, pumpkin and sunflower seeds and psyllum husk powder. Set aside.
In saucepan, combine tahini, nut butter, coconut oil and honey. Stir and heat over low to medium heat until all is melted and mixed well. Add Vanilla at the end.
Pour liquid mix over dry ingredients in a bowl and mix well until all is coated.
Place mix in 9″ x 13″ baking dish, lined with parchment paper. Press down with spatula to an even thickness.
Cool at least for an hour (better overnight) in the freezer, then remove from dish, place on cutting board, remove the parchment paper and cut in bars. Enjoy.
Store in the freezer in airtight bag or container.